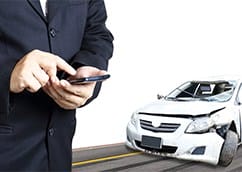 INSURANCE CLAIMS PROCESS
Big Rock Auto Rebuilders will help you handle the insurance claim and supplements directly with your insurance claim agent in an effort to expedite the process. We know it's important to get you and your car back on the road. We also know that accidents do more than damage your vehicle.
Why Us?
Over the past years, Big Rock Auto Rebuilders Auto Body, have worked to maintain a highly successful collision repair center, noted as a preferred shop by many of the nation's top insurance companies. Big Rock Auto Body strives to provide the utmost quality repairs and customer satisfaction found in the automotive body repair industry.
FREE ESTIMATES
Conscientiousness, effort, honesty, and fairness, together with customer involvement and approval are the chief ingredients for formulating a good tailor-made estimate. Before inspecting the vehicle our estimators ask the customer about their wants and needs. After cleaning and drying the vehicle undamaged parts and panels are compared to damaged parts. This helps to determine the nature and extent of the damage. If any damage is done to the body estimators use a magnet to confirm the plastic deterioration and its extent. We will Point out damage to parts that constitute present or potential legal and safety problems.