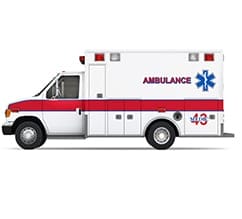 AMBULANCE PAINTING IN CHICAGO, IL
Maintaining consistent colors within your department assists in identifying your ambulance company when performing services within the community. It also helps instill a sense of pride which enhances performance and recruitment. We can assist you with your ambulance painting task and our auto body shop in Chicago can serve your needs. Big Rock uses the highest quality warranted paints and procedures for maximum durability, maintenance and appearance.
Why Us?
For ambulance painting auto body, collision, frame repair and refurbishing, Big Rock in Chicago is the leading body repair facility!
WEAR, RUST AND CORRISON
Ambulances endure harsh environments and use. This can cause wear, rust and corrosion. The Big Rock team in Chicago can restore the damaged parts of your ambulance to a safe, operational and attractive condition.
Consider repairing and refinishing a useful ambulance rather than replacing it. In addition to spending considerably less for refurbishing than the cost of a replacement, you preserve the department's operational efficiency thru members familiarity with the features and handling of your current equipment.